Setup Instructions for PNR Integration with Sabre Red 360 and ClientBase Online
Review full technical requirements under Product Release Notes & Related Information > Sabre Red 360 > Technical Requirements on Sabre Central.
In Sabre Red 360 verify you have the ClientBase Online Plug-in. Go to Help and click on About Sabre Red Workspace.
Click on Configuration Details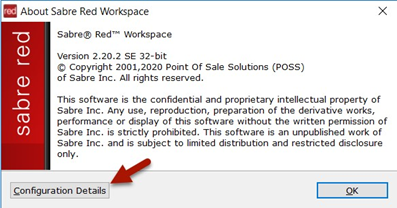 Under the Plug-ins tab, verify that ClientBase Online is listed.
If the ClientBase Online plug-in is not found in your list, go to Help and click on Check for Updates. After updates, restart Sabre Red 360 and check again.
Installing Active X Controls for the Merge to PNR and PNR Import features is no longer necessary, however, you will need to access ClientBase Online from within the Sabre Red 360 Platform to use the ClientBase Merge to PNR and PNR Import features. All other ClientBase Online functionality remains available via Internet Explorer.
To launch ClientBase Online from Sabre Red 360:
From the black toolbar, select Tools > Customer Management > ClientBase Online.
Follow the usual steps in ClientBase for Merge to PNR and PNR Import.