-Two Programs, One Database
-Interface IDs and Merge to PNR workflow
-Branch Access
-Issuing Invoices from ClientBase, what lands where?
-Dos and Don'ts when working in Trams Back Office on invoices generated through ClientBase
-User Logins
-Receipts and other items
Two programs, one database
"We backup Trams every day; do we need to backup ClientBase?"
This is a very common question that we receive in the Support Department. Although it is something that too many agencies are not clear at first, the answer is indeed, "No." Trams Back Office (TBO) and ClientBase for Windows (CBW) both connect to one database file. Although there are portions of the database that are only accessed by Trams, like the General Ledger, and there are portions of the database that are only accessed by ClientBase, like Activities and Res Cards, the majority of the database is accessed in one way or another by both programs. When you modify a client's profile in TBO, that change would be instantaneously visible through CBW. When you issue an invoice from a Res Card in CBW, you can immediately query for it in TBO.
Interface ID and Merge to PNR workflow
Many agencies that have had Trams Back Office for many years, implement ClientBase and don't learn to take full advantage of what the marriage between the two programs affords them. Most agencies are familiar with what the Interface ID field in their profiles is, but to make sure that it is clear, the Interface ID is the field that is used during GDS Interface Processing in Trams Back Office, which matches Clients, Agents and Vendors in the PNR with the corresponding profiles in the Trams/ClientBase Database. These are important, because as business is done with the same Clients and Vendors, you want to make sure that Invoices are created attached to those same profiles, rather than having new duplicate profiles created. You've probably seen this screen before: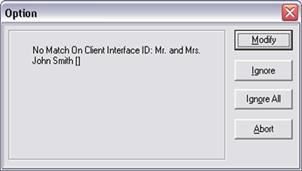 Leisure and Corporate profile's Interface IDs, along with a wealth of other information, can be communicated to Trams Back Office through PNR Invoice Remarks.
To pass an Interface ID to TBO through the PNR, you use the descriptor code AN followed by the Interface ID. For Sabre, if we wanted an invoice to attach to a client with Interface ID 1234567890, we would include this remark in the PNR (note that the S would suppress it from the Sabre Invoice):
5.S*AN1234567890
To make CBW and TBO really work together, we use the Merge to PNR feature in CBW to pass this information, through the PNR, back to TBO.
Global Defaults -> Merge to PNR Defaults -> PNR Rules -> select Interface ID Rule -> Modify
And when doing a merge to PNR for a Profile, the Interface ID will be sent:
Branch Access
There are some fairly major differences in how Branches are handled in Trams Back Office and ClientBase. In Trams Back Office, access to Branches is limited. You can only activate as many as your license allows:
Utilities > Setup > Branches in Trams Back Office: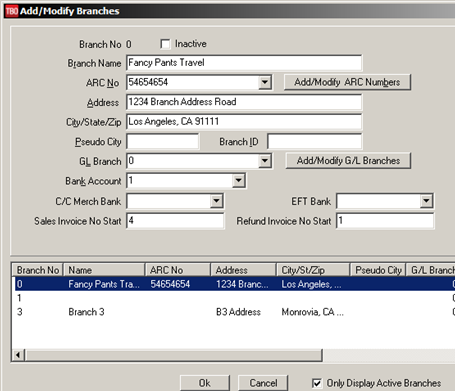 From Help / About in Trams Back Office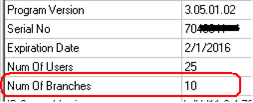 In ClientBase, however, you can utilize the entire list of available Branches at any time: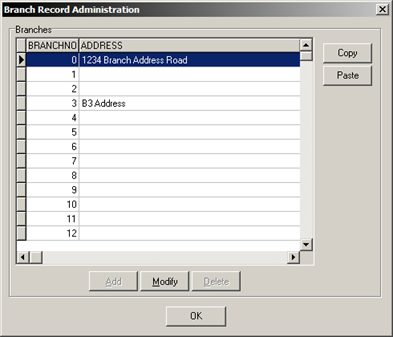 This idea can be difficult to understand, but the following tips and guidelines will help simplify understanding how to safely utilize Branches in both Programs. Below, we'll be referring to Active Branches in Trams Back Office as "Accounting Branches."
Leisure and Corporate Profiles can be assigned any Branch numbers you are using in ClientBase.
Agent Profiles should only be assigned to Accounting Branches. This assures that their Res Cards and corresponding Invoices they generate land in those Branches (more on that in the next section).
If your agency has only one Accounting Branch, you can set a Global Default in ClientBase which will force all Invoices generated in ClientBase to that Branch. This allows for any customization you may want to do in the ClientBase Branch list:
From ClientBase for Window/Global Defaults/Res Card Defaults/Default Field Values for Invoices
Issuing invoices from CBW, what lands where?
Both the ClientBase Res Card and Invoice records in Trams Back Office hold a wealth of information. When invoicing through ClientBase, much of that information is passed to the Invoice record, though a great deal is not. Here are the most notable fields (those marked with an * can be modified during Invoice Generation):
Res Card Branch -> Invoice Branch (unless overrode by Global Defaults)
Res Card Record Locator -> Invoice Record Locator
Res Card Agent -> Booking Agent*
Res Card Group -> Invoice Group
Reservation Vendor -> Booking Vendor
Reservation Confirmation # -> Booking Confirmation #
Reservation Travel Category -> Booking Travel Type*
Reservation Fare data -> Booking Fare data*
Reservation Itin/Invoice Remarks Tab -> Booking Remarks Tab
Earliest Reservation Service Provider Start Date -> Booking Depart Date
Latest Reservation Service Provider End Date -> Booking Arrival Date
Air Service Provider entries -> Booking Segment Tab entries
Other areas that affect what is passed to the Invoice:
Branch Remarks -> Invoice Remarks*
Vendor/Agent Res Card Remarks -> Invoice Remarks*
ClientBase will include additional Agents as assigned in Trams Back Office
Checking Show as Paid when Submit To is Commission Track -> CC Number populates the Comm Track CC No. field in Booking Expanded Fare tab
Working in TBO on Invoices Generated in ClientBase
Although bookkeepers are generally able to make various edits to Invoices and Bookings in Trams Back Office, it is important to know how those changes will affect ClientBase if they originated from a Res Card.
`1. Never add a Booking to an Invoice that was generated from a Res Card, use Split Booking Instead
This is probably the most important thing to remember, as it has the most detrimental effect on ClientBase. Each Invoice that is generated through ClientBase is linked to the Res Card it was generated from, and in turn each Booking is linked to a Reservation. Notice below a booking added has no CB Reservation No.
When you reprint an invoice from a Res Card, ClientBase subtracts the Booking Totals from the Reservation Totals to produce a correct Balance, but additional Payments on Bookings that are not linked to any Reservation will show causing something like this to happen:
If you do need to add a booking to an Invoice that was generated through ClientBase, you may use the Split Booking option in Trams. Right clicking a Booking in a TBO Invoice will show the option, though the Booking must not have any Payments attached.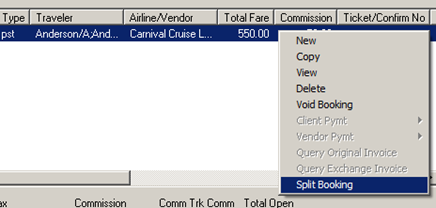 2. Refunds for Invoices generated through ClientBase must also be generated through ClientBase
It is not possible to create an Invoice or Refund in Trams Back Office and link it back to a ClientBase Res Card. Although it is not typical for this to be attempted with a regular Invoice, bookkeepers often issue Refunds from Invoices directly in TBO. If it an Invoice was issued originally in ClientBase, a corresponding Refund must also be issued in ClientBase.
3. Payments may be modified in Trams Back Office
Payments may be voided and re-issued through Trams Back Office, and the payment type will reflect correctly in ClientBase.
4. Bookings may be voided/deleted from Trams Back Office
5. Booking fare amounts may be modified, but you may need to update ClientBase as well.
It is safe to modify Booking fare amounts, because when reprinting an invoice in ClientBase, it recalculates the Reservation Totals minus Invoice/Booking totals each time. If a deposit was issued for an incorrect amount, it could be updated in TBO and the invoice simply reprinted in ClientBase to see a corrected copy.
However, it is possible that the Res Card Reservation may need to be updated as well. For example, you issue an invoice, paid in full for $2115.00. There was a mistake, and the total should have been $2120.00. The bookkeeper voids the payment, fixes the booking, and reenters the payment. The agent then reprints the invoice from CBW and finds there is now a Balance of negative $5.00. They need to also modify the Reservation totals before reprinting the invoice to see the correct Balance.
6. Submit to may be changed, but be careful when switching to Commission Track
You can safely change the Submit To option on a Booking in TBO, but you must be careful when changing the Booking from Supplier to Commission Track. The reason is actually found above in the section on "What Lands Where?" When you issue an invoice with the Submit To set to Commission Track from ClientBase and check the Show as Paid option, the CC number lands in the TBO Booking under the Expanded Fare tab as the Comm Track CC No. That status is maintained for reprints by the existence of a value in that field. If there is no value there, the Reservation will no longer reprint as paid, and count as 0.00 toward the invoice totals. In short, if changing a Booking from Supplier to Commission Track, make sure to enter something under the Comm Track CC No. field on the Expanded Fare tab as long as it should show that a payment has already been made.
User Logins
Although the main list of User Logins is seen and shared, by both Trams Back Office and ClientBase, the security and permissions for those login are maintained separately in each of the applications. When a login is created in Trams, it is initially disabled for access to ClientBase, and vice versa.
When you need to setup a login that will have access to both applications, you will need to create that either application first, and then enable and setup permissions separately in the other.