Create custom Agent remarks to print on Invoices, Trip Proposals, Itineraries, Trip Statements and Receipts. Use this feature if an IC or Agent requires a unique set of Remarks other than the Branch remarks.
Open the agent profile and select the Res Card Remarks tab.
Whenever an invoice, itinerary, trip proposal, trip statement or receipt is issued for this agent enter agent level Res Card Remarks to print accordingly. Click Add and complete following fields: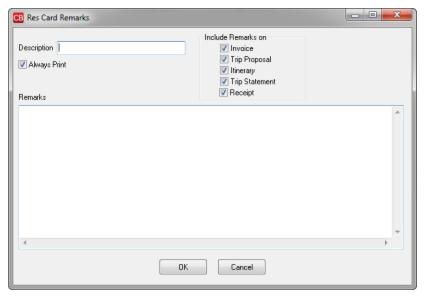 Description: Enter a brief 15 character description of the Remark.
Always Print: Place a check here if you would like these remarks to print by default. Leave this field unchecked if you would like to force the user to select this remark to print at the time of printing the document.
Include Remarks On: Create different remarks for different documents. Select which document you would like to include this remark by placing a check within

Invoice, Trip Proposal, Itinerary, Trip Statement

or

Receipt

.
Remarks: Enter your free flow remarks here. There is no limit to the number of characters.
Add multiple remarks for each profile and arrange the desired ordered by highlighting a remark from the listing and clicking the blue arrows to move it up or down in position.
Click

OK

to Save.
When the agent selects Generate Invoice, he/she can select the Remarks button and then select the Agent Remarks tab. If the "Always Print" option was selected when the remark was created, that remark will be Selected in the following screen. If the "Always Print" option was not selected when the remark was created, the agent can select any or all remarks listed. The same applies to the other documents.