Skip To:
NOTE: CSA Travel Protection does not work with ClientBase Online
CSA Travel Protection Features
CSA supports the following Live Connect Features if checked: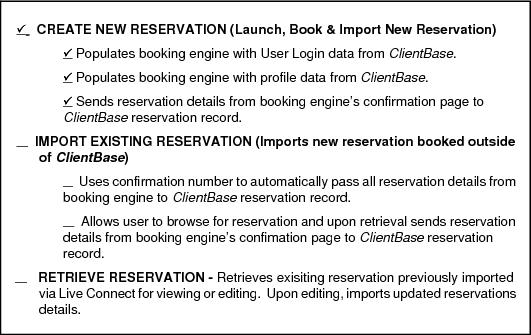 CSA Travel Protection for ClientBase Windows
To use Live Connect to purchase trip insurance with CSA, obtain a license to sell CSA Insurance and an account number. If already licensed to sell CSA insurance, the account number is on all of the insurance forms. If not currently licensed to sell CSA Trip Insurance, contact CSA directly at 888-470-9123.
Set Up CSA (Windows)
Once you obtain your account number, take the following steps to setup ClientBase for Live Connect:
Step 1) Go to Utilities|Live Connect Providers, and clicking Modify. (It's a good idea to check if the URL is correct.)
Provider Name: CSA.
URL: Enter https://www.csatravelprotection.com?aff=

trams

Travel Category: N/A.
Import XML from: N/A.
Step 2) Setup for Live Connect agent logins can be done individually. When Live Connect is launched, the system first looks to see if there is login information at the User Login level, and if not, then asks the user to login at the provider website. Users can set up their own logins by going to Utilities|My Login|Live Connect and clicking Add.
Live Connect Provider: Select CSA from drop-down list.
User Name: Enter the name of the agency.
Account Number: The account number is found on the pre-printed insurance contracts you furnish to your clients--input this number.
Step 3) Create a vendor profile for CSA Travel Protection. From the General Info tab, click Live Connect Providers. From here, click Add, then select the desired booking engine (CSA) from the drop-down list. The vendor code is left blank.
Create New CSA Reservation (Windows)
Step 1) When ready to book on-line, create a client's Res Card and fill in the Agent, Status, Reservation Cycle, and Trip Name fields and select the travelers. Click the reservation tab and Add. Fill in the Vendor and Travel Category fields, and click Live Connect.
Step 2) By default the Live Connect provider CSA is listed in the Connect To field. Click Create New Reservations.
Step 3) Select any customer information for use to book the CSA reservation. This data is automatically passed to CSA and saves time during the booking process, as less fields need to be completed manually. Click Connect.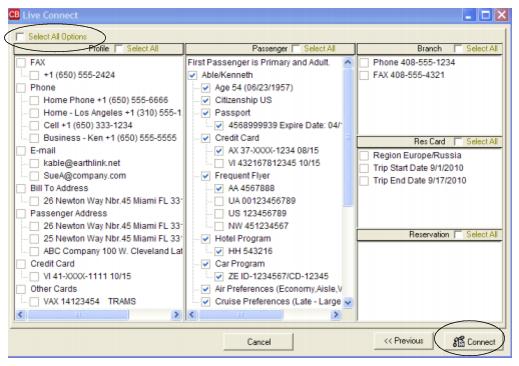 Step 4) The system prompts with the reservation records included in this Res Card. Highlight each reservation to insure. To highlight and select multiple reservations, use the CTRL key in combination with clicking. Again, this step is designed to save time during the insurance booking process, as less fields need to be completed manually. Any missing or incomplete data can be updated on the CSA website confirming the insurance booking. Click Connect.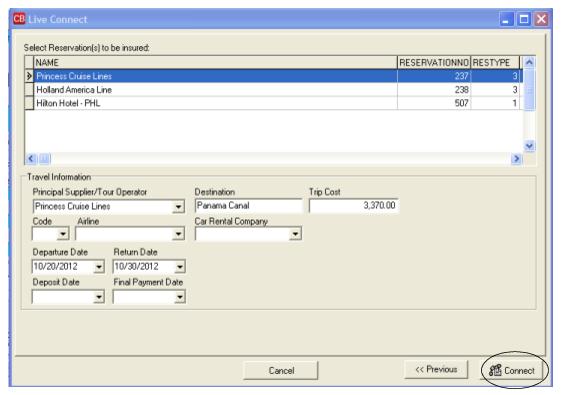 Step 5) Although still in ClientBase, you are on-line at the booking site. Complete the reservations and when the reservation is confirmed, click Import Reservation and all reservation data booked on-line is now located in the reservation in ClientBase.