Setup Order
Step 3. Create an Agent Profile & Link to Branch
Step 5. PNR Setup for Sabre, Amadeus, Worldspan, Galileo and Apollo
Step 6. Importing an ASCII File
Step 1. Preparing a Computer
***Note: ClientBase Online is fully supported with Internet Explorer. Live Connect and Merge to PNR/PNR Import features will only work if the user is logged into ClientBase Online using Internet Explorer. If the user does not use Live Connect or Merge to PNR/PNR Import, Chrome can be used.
1. Mark https://clientbaseonline.trams.com/login/ as a trusted site in Internet Explorer
Open Internet Explorer and navigate to clientbaseonline.trams.com/login/.
Open the Internet Explorer Options dialogue by pressing ALT-T, then choosing Internet Options from the list.
Click on Security, then the green checkmark Trusted Sites, then the button labeled Sites.
Click Add to include clientbaseonline.com in the list of trusted sites, then click Close.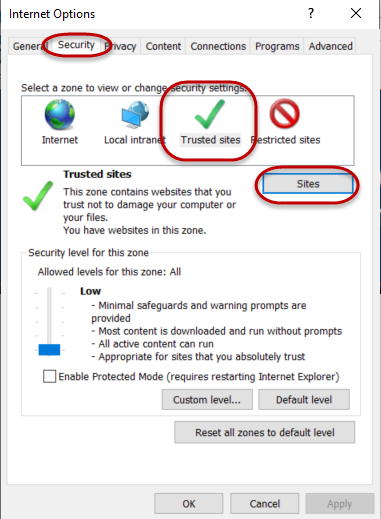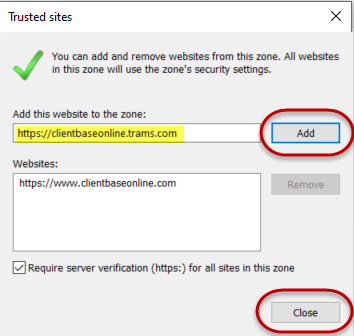 Move the slider down so the level is set to Low and then select OK.
2. Add clientbase.trams.com/login/ to Compatibility View Settings
Open Internet Explorer and Press ALT-T to open the Tools menu, then choose Compatibility View Setting" from the list.
3. Run the ClientBase Online Diagnostic Tool
Once you've completed the above steps, click on the link Run Diagnostic from the ClientBase Online login screen (clientbaseonline.trams.com/login/). Follow the prompts. All of these tests should have a green check mark next to them. If any test fails (has a yellow or red exclamation mark), click the link to learn more.
Step 2: Branch Setup
Go to Tools > Settings > Branch Settings.
Click on Branch # 0.
Enter Branch information.
Save All Branch Settings.
Step 3: Create an Agent Profile and Link to the Branch
On the menu bar, click Profile > Agent to create a new agent profile.
Enter the Profile Name (i.e. Thomas Jones), Last Name & First Name.
Scroll down until you find the field Branch No. From the drop-down, select the appropriate branch number.
Click Next. Enter additional information if needed.
Click Save.

Step 4: Create a User Login
Go to Tools > Settings > User Logins and click Add.
Enter Login Name, Password, User Name, Title, E-Mail, and very important, from the drop-down find the Agent Profile you created and link it.
Select the appropriate Authorization and Security Level.

Click here for more information on Security Levels.

Save.
Step 5: PNR Setup for Amadeus, Sabre, Worldspan, Galileo & Apollo
1. Download and Install CBBComps.exe
Scroll to your GDS, read the applicable notes, and click on the here link to download the file. When prompted, select "Run"
Follow the prompts.

If using Worldspan, you'll be prompted to enter the connection ID assigned by Travelport (The "Connection ID" will be required for setup. The connection ID is assigned by Travelport and is in the format of six numeric characters, and underscore (_) and then three more characters. For example, it may look like 123456_000. If this information is not available, contact Travelport support.)
2. Select your GDS in ClientBase Online
Go to Tools > Settings > Merge to PNR Settings
Select your GDS
Select "Use API" for all Sabre, Amadeus, Galileo and Apollo; "Use Clipboard" for Worldspan.
SABRE RED USERS ONLY: Installing Active X Controls for the Merge to PNR and PNR Import features is no longer necessary, however, you will need to access ClientBase Online from within the Sabre Red 360 Platform to use the ClientBase Merge to PNR and PNR Import features. In Sabre Red 360, go to Help > About Sabre Red Workspace. Click on Configuration Details. Under the Plug-ins tab, verify that ClientBase Online is listed.
If the ClientBase Online plug-in is not found in your list, go to Help and click on Check for Updates. After updates, restart Sabre Red 360 and check again.
To launch ClientBase Online from SR360, from the black toolbar, select Tools > Customer Management > ClientBase Online.
WORLDSPAN USERS ONLY: In CBO, go to the agent login screen. Users can click on Tools > My Login. Database administrators can click on Tools > Settings > User Logins > Select the Agent. Select PNR Import. Click on Add, then enter the Agent Sine (the same information an agent enters after BSI$ when logging into Worldspan). The Pool Name is assigned by Travelport. When the information is entered, click OK, then Save.

3. Merge to PNR Rules
Go to Tools > Settings > Merge to PNR Rules to review 6 pre-defined rules, and modify as needed for your GDS. Test by doing a Merge to PNR from any profile (see No. 4 below) and verify that the codes are correct. If not, go back to Merge to PNR Rules and update as needed.
4. Usage
Search for an existing profile in ClientBase Online. Verify data is current and accurate. If no profile is found, create a new one.
Verify that client data is correct and a Bill To and Ship To address exists. Client data includes accurate address, phone and email information, passengers, and card information.
Select PNR on the Menu Bar.
Select the correct GDS. All are API except Worldspan which uses the clipboard.
Review the Selection screen. Select and unselect as desired.
Click Finish. Go into the PNR and review the merged data. For Sabre, do a Display All; for Worldspan, paste the data
Step 6: Importing an ASCII file
This section details the importing of Client, Vendor, Agent and Other profiles from other software programs using ASCII (.txt) files. The routine of importing either appends one database of profile information to an existing database (or an empty one) without checking for duplicates, or updates existing profiles if certain parameters are setup.
Note: If your agency uses ClientBase Windows in conjunction with ClientBase Online, it is strongly suggested you import data using the ClientBase Import/Update Utility.
Importing Customer Profiles via ASCII (.txt) Files
Agencies may use many different software programs to maintain customer data such as names, addresses, phone numbers and marketing information. Ideally, most agencies implementing ClientBase Online prefer to electronically "import" customer information to the ClientBase Online profiles rather than manually re-entering it. Later, when the ClientBase Online is up and running, agencies may want to import other miscellaneous electronic files as well, such as a purchased mailing list. Although ClientBase Online can't anticipate every possible program used, if your agency has a database of customer information in a program that can put that information into an ASCII (American Standard Code for Information Interchange) file (.txt), chances are an electronic "import" is possible...and easy!
Only the Manager Authorization has permission to do a Profile Import.
ASCII Delimited Text Files
Regardless of the specific program used to maintain your database, if the program can create an ASCII-comma or tab delimited file (and most programs currently can by using File | Save As or File | Export), that file can be imported using the ClientBase Online Import Wizard. An ASCII format uses a standardized coding scheme enabling different computer programs to exchange information.
Each record in the file includes information such as Name, Address 1, Address 2, City, etc. To recognize when one field ends and another field begins, a delimiter is used, separating each field. This delimiter is a character and the most commonly used are a tab or a comma.
If your existing database program can create an ASCII file, create your file, and save it to an external source such as a flash drive or to your computer. The file must be created prior to running the ClientBase Import Wizard. Find instructions on creating the file from the vendor supporting that software program.
Using the ClientBase Online Import Wizard
The ClientBase import utility can only import tab or comma delimited ASCII text files. This means that the file you are importing must be saved in .txt format and use a carriage return between each profile record, and either a tab or comma between each field within each record. If the file you would like to import is not in this format, use a program like Excel to open the file and then save in .txt format.
The wizard guides you through importing different classifications of profile data: name, address, communications, marketing, and traveler. The basic steps for import are:
Step 1: Start the Wizard

Step 2: Select the Import File

Step 3: Map Profile General Information

Step 4: Map Communications Entries

Step 5: Map Address Entries

Step 6: Map Marketing Codes

Step 7: Map Profile Remarks

Step 8: Summary Screen
Updating Existing Profiles vs. Inserting Profiles
There are two methods of importing data - update or insert. Update means you want to replace data that is currently in your database with new data. An example is John Jones is currently in ClientBase. He visits your website and updates his address, letting you know he moved. You import profiles from your website every week into ClientBase. Since the profile already exists in ClientBase, you want the import routine to find this profile and change the address instead of creating a new profile which would be a duplicate. If the entire import was updates, then the number of profiles would not increase.
Important Note: As you map the fields from the import file to the fields in ClientBase, it is important to remember that any fields that are being mapped to in ClientBase will be replaced by the value of the field in the import file, even if it is empty.
Using the insert method means you are adding profiles to the database and the number of profiles in the system increase after the import is complete. An example of this is if you purchase a mailing list and want to load all the profiles into ClientBase so you can monitor responses and follow up on these profiles.
Two Ways to Import Data
Notice three buttons listed on many of the screens in the Import Utility that are used to describe how that data should be imported.
| | |
| --- | --- |
| Map | Mapping is used when a data field exists and is populated in the file while importing. You want to bring the data in "as is" to a field in the database. Select the name of the field that exists in the source file and indicate in the import wizard into which field you want the data to show in ClientBase or Trams Back Office. |
| Constant | Use this feature when using same value for every profile being imported. Going back to the mail list example, you are importing data exclusively for Leisure profiles. Set the Profile Type field as a constant with a value of Leisure. Now all the profiles imported from the mail list show as Leisure profiles in ClientBase Online. |
Step 7: Training Options
To learn how to use ClientBase Online, visit the ClientBase Online section right her in Knowledge Base! We have different training options available: